Software Name: MyLastSearch

Version: 1.64
Category: Internet
Date Listed/Updated: 2016-07-19 01:47:57
File size: 68 KB
OS: Win98,WinME,WinNT 4.x,Windows2000,WinXP,Windows2003,Windows Vista Starter,Windows Vista Home Basic,W License: freeware Price($):
Author/Publisher name: Nir Sofer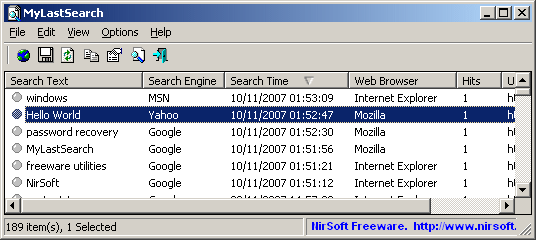 Description: MyLastSearch utility scans the cache and history files of your Web browser, and locate all search queries that you made with the most popular search engines (Google, Yahoo and MSN). The search queries that you made are displayed in a table with the following columns: Search Text, Search Engine, Search Time, Web Browser, and the search URL. You can select one or more search queries and then copy them to the clipboard or save them into text/html/xml file.
Tags: search latest view web google yahoo msn
Is this software spam? Report Spam
Software removal request by publisher Removal Request
Software Review: MyLastSearch Review
For publisher: Request Software Confirmation
Software from the publisher:
VideoCacheView, OutlookStatView, DownTester, WhatInStartup, DNSDataView, WirelessNetConsole, SkypeLogView, UserProfilesView, IPInfoOffline, ChromeCacheView, OperaCacheView, ShellBagsView, UserAssistView, SocketSniff, AddrView, USBDeview, CleanAfterMe, ProcessActivityView, DotNetResourcesExtract, HtmlDocEdit, SysExporter, PingInfoView, WirelessNetView, FastResolver, FileTypesMan, OpenWithView, BluetoothView, MyUninstaller, AdapterWatch, IECookiesView, IconsExtract, ActiveXHelper, SniffPass, MyLastSearch, OpenedFilesView, MetarWeather, HashMyFiles, WebVideoCap, WinLister, Volumouse, ShellExView, ServiWin, NirExt, MMCompView, DriverView, CurrPorts, ActiveX Compatibility Manager, SpecialFoldersView, VideoCacheView Pro, DeviceIOView, CurrProcess, ShortcutsMan, SmartSniff, MZCacheView, MyEventViewer, SiteShoter,