Software Name: ShortcutsMan

Version: 1.10
Category: Utilities
Date Listed/Updated: 2016-09-26 08:36:10
File size: 38 KB
OS: Win2000,Win7 x32,Win7 x64,Win98,WinVista,WinVista x64,WinXP License: freeware Price($):
Author/Publisher name: Nir Sofer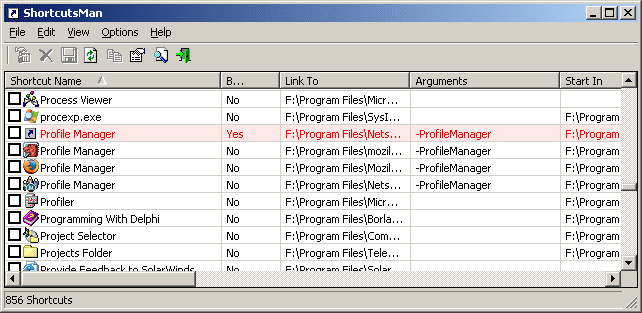 Description: ShortcutsMan displays the details about all shortcuts that you have on your desktop and under your start menu. Broken shortcuts (shortcuts that point to file that doesn't exist) are automatically painted with pink color. You select one or more shortcuts, and then delete them, resolve them or save the shortcut's details to HTML/Text/XML file.
Tags: list shortcuts start menu desktop broken
Is this software spam? Report Spam
Software removal request by publisher Removal Request
Software Review: ShortcutsMan Review
For publisher: Request Software Confirmation
Software from the publisher:
VideoCacheView, OutlookStatView, DownTester, WhatInStartup, DNSDataView, WirelessNetConsole, SkypeLogView, UserProfilesView, IPInfoOffline, ChromeCacheView, OperaCacheView, ShellBagsView, UserAssistView, SocketSniff, AddrView, USBDeview, CleanAfterMe, ProcessActivityView, DotNetResourcesExtract, HtmlDocEdit, SysExporter, PingInfoView, WirelessNetView, FastResolver, FileTypesMan, OpenWithView, BluetoothView, MyUninstaller, AdapterWatch, IECookiesView, IconsExtract, ActiveXHelper, SniffPass, MyLastSearch, OpenedFilesView, MetarWeather, HashMyFiles, WebVideoCap, WinLister, Volumouse, ShellExView, ServiWin, NirExt, MMCompView, DriverView, CurrPorts, ActiveX Compatibility Manager, SpecialFoldersView, VideoCacheView Pro, DeviceIOView, CurrProcess, ShortcutsMan, SmartSniff, MZCacheView, MyEventViewer, SiteShoter,