Software Name: SiteShoter

Version: 1.42
Category: Internet
Date Listed/Updated: 2016-09-26 08:41:00
File size: 86 KB
OS: Windows2000,WinXP,Windows2003,Windows Vista Starter,Windows Vista Home Basic,Windows Vista Home Prem License: freeware Price($):
Author/Publisher name: Nir Sofer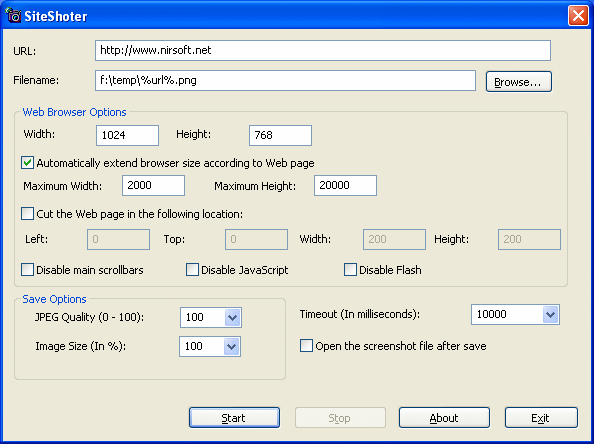 Description: SiteShoter is a small utility that allows you to save a screenshot of any Web page into a file. It automatically creates hidden window of Internet Explorer, loads the desired Web page, and than save the entire content of the Web page into an image file (.png, .jpg, .tiff, .bmp or .gif). You can use SiteShoter in user interface mode, or alternatively, you can run SiteShoter in command-line mode without displaying any user interface.
Tags: save screenshot web page site png jpg bmp gif command line
Is this software spam? Report Spam
Software removal request by publisher Removal Request
Software Review: SiteShoter Review
For publisher: Request Software Confirmation
Software from the publisher:
VideoCacheView, OutlookStatView, DownTester, WhatInStartup, DNSDataView, WirelessNetConsole, SkypeLogView, UserProfilesView, IPInfoOffline, ChromeCacheView, OperaCacheView, ShellBagsView, UserAssistView, SocketSniff, AddrView, USBDeview, CleanAfterMe, ProcessActivityView, DotNetResourcesExtract, HtmlDocEdit, SysExporter, PingInfoView, WirelessNetView, FastResolver, FileTypesMan, OpenWithView, BluetoothView, MyUninstaller, AdapterWatch, IECookiesView, IconsExtract, ActiveXHelper, SniffPass, MyLastSearch, OpenedFilesView, MetarWeather, HashMyFiles, WebVideoCap, WinLister, Volumouse, ShellExView, ServiWin, NirExt, MMCompView, DriverView, CurrPorts, ActiveX Compatibility Manager, SpecialFoldersView, VideoCacheView Pro, DeviceIOView, CurrProcess, ShortcutsMan, SmartSniff, MZCacheView, MyEventViewer, SiteShoter,