Software Name: eWay-CRM

Version: 5.0.0.123
Category: Miscellaneous
Date Listed/Updated: 2017-10-29 21:37:50
File size: 74458 KB
OS: Win2000,WinXP,Win7 x32,Win7 x64,Windows 8,Windows 10,WinServer,WinOther,WinVista,WinVista x64 License: Other Price($): 28
Author/Publisher name: Jan Lalinsky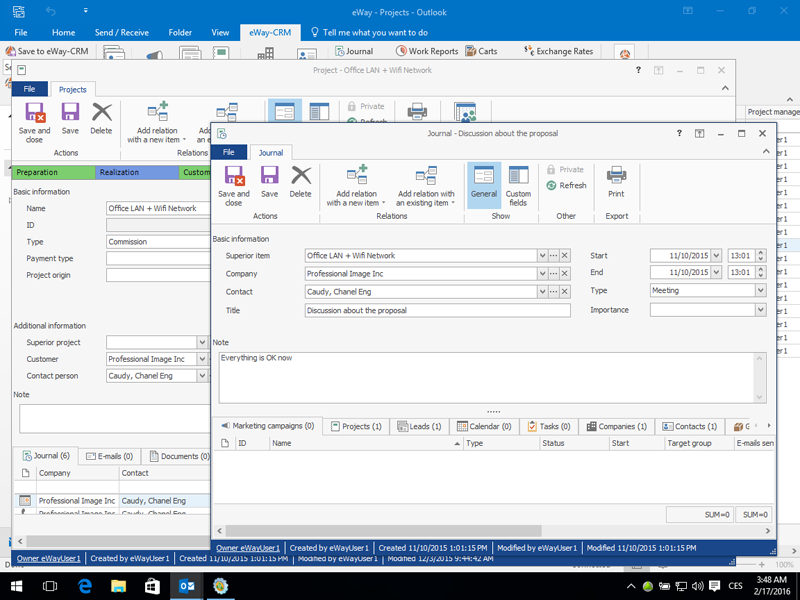 Description: The best CRM Add-in for Outlook, available now on iOS / Android. It helps manage Customers, Deals, Projects and Mail Merges. AMAZING INTEGRATION WITH OUTLOOK Turn your Outlook into professional CRM software. Work with the well-known environment, stay in one application and don't switch between. Integrate Emails, Calendar, Tasks and Contacts. Get your staff familiar with CRM, looks exactly like Microsoft Outlook. Give users a tool they already know and decrease your training costs. iOS / ANDROID APPS PROVIDE DATA ON THE GO Install the iOS / Android app on your smartphone and access data on the fly. Search your database, make notes, attach photos and set up reminders. COMPANY AGENDA IN ONE PLACE Contacts, Sales, Projects and Marketing Mail Merges available from your Outlook. Get the full communication history, attach documents, plan follow-ups, send bulk emails. Manage your pipeline, monitor life projects and let eWay-CRM send you reminders when needed. DATA SHARING Share your Outlook with other team members. Emails, Calendar, Contacts or Tasks. All saved data is instantly available for everyone's access. Our CRM software also has an auto-tracking feature. When enabled, all your incoming and outgoing emails are automatically saved to eWay-CRM and organized by contacts / projects. FULLY CUSTOMIZABLE Customize eWay-CRM to your needs. Create grid reports, utilize advanced filter editor, save user views for later use. Design your own forms, make as many custom fields as needed, customize workflows, set up user permissions. eWay-CRM has a built-in administration app that helps you tailor the software to your specific needs to ensure your team members will follow best practices.
Tags: crm crm software project management software free crm crm system best crm crm tool best crm software
Is this software spam? Report Spam
Software removal request by publisher Removal Request
Software Review: eWay-CRM Review
For publisher: Request Software Confirmation
Press release from the publisher:
MOBILE APPS UNDERESTIMATE OFFLINE MODE. EWAY-CRM 5.0 LETS USERS WORK EVERYWHERE Czech software company eWay System LLC announces the release of eWay-CRM 5.0. This version brings major improvements and is finally available for iOS as well. Full offline mode helps the users stay in touch with their customers on the go. As an integrated CRM in Outlook, eWay-CRM allows using preferred modules only and turn off unnecessary features. "It's not just about having access on the go but using your mobile is simply easier than opening a laptop. The advantages of mobile devices are becoming greater than their creators even intended. The same has happened with our mobile app," explains the developer of eWay-CRM Mobile, Stepan Havranek. Some of the most significant benefits and features that eWay-CRM 5.0 offers are: - eWay-CRM Mobile for iOS / Android for Everybody with Premium Edition - Spring Facelift. Enjoy eWay-CRM in UltraHD - "Next Step" and "Last Activity" Fields - Deal "Value" Field - Marketing Responses as Journals - Feature Configurator for new eWay-CRM Free / Premium Trial - Contact Preview - Default Company on a Contact Cart - Drag and drop of a Document to Email For more information, please follow us at Facebook, LinkedIn, or Twitter. - https://www.facebook.com/eWayCRM.en - https://www.linkedin.com/company/eway-system-en - https://www.twitter.com/eWayCRM_EN ABOUT EWAY SYSTEM LLC eWay System LLC, offers software solutions to companies which are involved in project engagement, to manage and run their businesses efficiently. We provide our services, especially to small and medium-sized enterprises. The eWay-CRM works within Microsoft Outlook and you can try it for free.
Visit the Press Release for more details
Software from the publisher: