Software Name: SocketSniff

Version: 1.11
Category: Internet
Date Listed/Updated: 2018-11-08 22:14:23
File size: 47 KB
OS: Windows2000,WinXP,Windows2003,Windows Vista Starter,Windows Vista Home Basic,Windows Vista Home Prem License: freeware Price($):
Author/Publisher name: Nir Sofer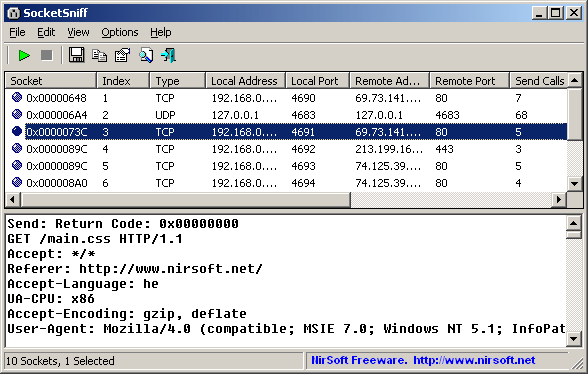 Description: SocketSniff allows you to watch the Windows Sockets (WinSock) activity of the selected process. For each created socket, the following information is displayed: socket handle, socket type, local and remote addresses, local and remote ports, total number of send receive bytes, and more. You can also watch the content of each send or receive call, in Ascii mode or as Hex Dump.
Tags: Windows Sockets WinSock Sniffer
Is this software spam? Report Spam
Software removal request by publisher Removal Request
Software Review: SocketSniff Review
For publisher: Request Software Confirmation
Software from the publisher:
VideoCacheView, OutlookStatView, DownTester, WhatInStartup, DNSDataView, WirelessNetConsole, SkypeLogView, UserProfilesView, IPInfoOffline, ChromeCacheView, OperaCacheView, ShellBagsView, UserAssistView, SocketSniff, AddrView, USBDeview, CleanAfterMe, ProcessActivityView, DotNetResourcesExtract, HtmlDocEdit, SysExporter, PingInfoView, WirelessNetView, FastResolver, FileTypesMan, OpenWithView, BluetoothView, MyUninstaller, AdapterWatch, IECookiesView, IconsExtract, ActiveXHelper, SniffPass, MyLastSearch, OpenedFilesView, MetarWeather, HashMyFiles, WebVideoCap, WinLister, Volumouse, ShellExView, ServiWin, NirExt, MMCompView, DriverView, CurrPorts, ActiveX Compatibility Manager, SpecialFoldersView, VideoCacheView Pro, DeviceIOView, CurrProcess, ShortcutsMan, SmartSniff, MZCacheView, MyEventViewer, SiteShoter,