Software Name:
HeliosPaint


Version: 0
Category: Multimedia
Date Listed/Updated: 2009-03-19 18:00:15
File size: 0 KB
OS: Windows, Vista, Mac, *NIX + Java License: freeware Price($): 0
Author/Publisher name: D.J.B. Osborne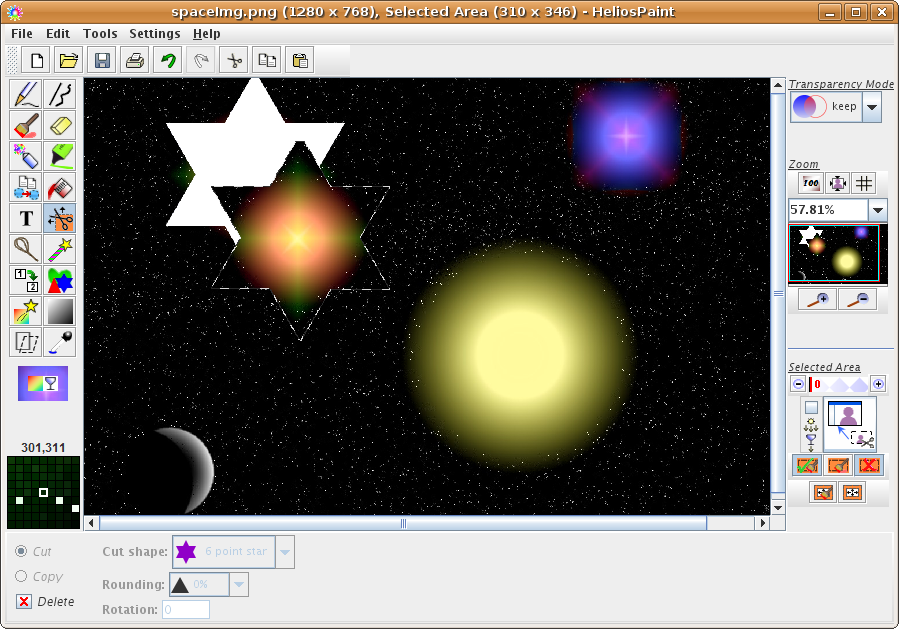 Description:
HeliosPaint is a freeware paint program for creating and editing images and drawings. Includes pencil, line tool, paint brush, spray can. Paint can with fill sensitivity. Shape tool for creating freehand, regular polygon and star shapes. Text entry with choice of font, style, underline and rotation. HSB/RGB/contrast adjustment. Image invert, gray, blur and sharpen. Image flip, scale up, scale down, rotate and shear. Full colour pallet with transparency. Scissors, lasso and wand for selecting, moving and working on image segments. Sensitivity of lasso and wand is adjustable. Undo and redo. Printing with auto page fit. Reads bmp, gif, ico, jpeg, pict, pcx, png, psd, ras, tga, tiff, xpm. Writes bmp, gif, jpeg, pict, pcx, png, psd, ras, tga, tiff, xpm.
Tags: HeliosPaint
Is this software spam? Report Spam
Software removal request by publisher Removal Request
Software Review: HeliosPaint Review
For publisher: Request Software Confirmation
Software from the publisher: