Software Name: SecureFX for Linux

Version: 8.7.1
Category: Miscellaneous
Date Listed/Updated: 2020-03-19 10:23:09
File size: 20377 KB
OS: Unix,Linux License: Other Price($): 59.95
Author/Publisher name: VanDyke Software Inc.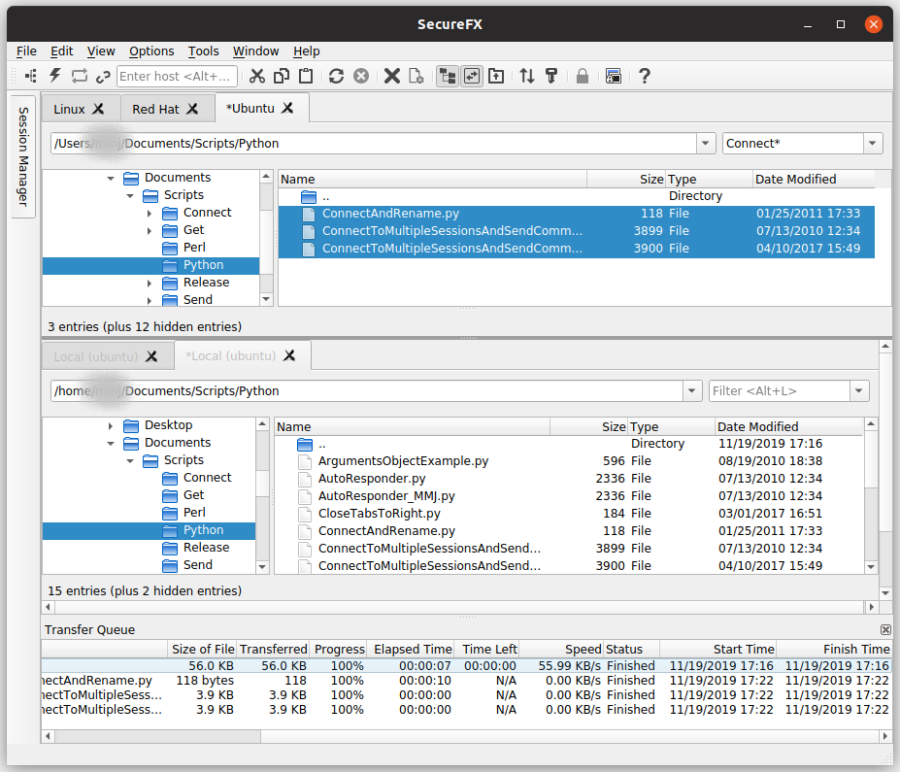 Description: SecureFX for Windows, Mac, and Linux is a secure file transfer client with advanced features like site synchronization and automation to help network administrators and web designers streamline everyday tasks. Delivering strong security with SFTP, SCP, and TLS-based protocols, as well as legacy FTP, SecureFX is the tool you can rely on for tough jobs - connecting to multiple servers, resuming multi-file transfers, and getting through network proxies and firewalls. An easy-to-learn tabbed interface and dockable session manager gets you up and running quickly. Establish a secure connection, then drag and drop files to and from the server and your desktop or other applications (Windows only). The SFXCL command-line utility (Windows and Linux only) allows fully-automated, unattended file transfers. ?Relentless? transfers automatically reconnect and resume when connections are broken. Authentication options include password, keyboard interactive, public-key, X.509, and Kerberos v5. Site synchronization handles upload, download, and true mirroring. Filter a file selection with wildcard support, and store configurations in the synchronize database for quick recall. Named sessions and firewalls let you to save preferences for future use. A personal data folder provides separate storage of logon information so that other configuration data can be stored on a network drive or in the cloud for use on different systems or sharing with colleagues. A 30-day, fully-functional evaluation includes access to technical support.
Tags: ftp sftp secure ftp ssh ssh2 secure shell secure transfer file transfer securefx van dyke
Is this software spam? Report Spam
Software removal request by publisher Removal Request
Software Review: SecureFX for Linux Review
For publisher: Request Software Confirmation
Press release from the publisher:
SecureCRT 8.7 and SecureFX 8.7 from VanDyke Software Help System Administrators Work Faster and More Efficiently Albuquerque, NM (Feb 11, 2020)-VanDyke Software, a developer of multi-platform secure terminal emulation and file transfer software, today announced the official release of SecureCRT 8.7 and SecureFX 8.7. SecureCRT and SecureFX 8.7 Support Windows 10 and macOS Catalina For organizations making the switch from Windows 7 or 8.1 to Windows 10, SecureCRT and SecureFX 8.7 are compatible. They are also compatible with macOS Catalina, including support for Dark Mode. SecureCRT 8.7 Keyword Highlighting Enhancements Simplify Device Management In environments with large numbers of connected devices, the ability to do word, phrase, and substring matching and use regular expressions in keyword highlighting makes device management easier. ?The enhanced regex capabilities of SecureCRT 8.7 paired with endless color-coding options (for keyword highlighting) allow me to efficiently identify outliers, visually scan and filter results very quickly, and highlight errors and inconsistencies that I would have otherwise missed, said Alan Skinner at Cox Communications. New Command Manager in SecureCRT for Windows Streamlines Repetitive Tasks For customers who wanted more buttons than could fit on the button bar, the new Command Manager (Windows only) provides a simple way to organize commands into named folders. According to Shawn R. Hill, CISSP CCSE at AT&T, The Command Manager has completely revamped the Button experience. The ability to create a command tree list - sorted per vendor device type, environment, and even versions - exponentially improves the functionality of SecureCRT. Having the right commands, already proven to work from prior use and ready to go at the click of a mouse, is a huge time saver during troubleshooting sessions and outage mitigation efforts. SecureFX 8.7 Adds Multiple Local Windows and HTTPS (WebDAV) SecureFX 8.7 enhances productivity with a new option to pair each remote session with its own local window. The addition of HTTPS (WebDAV) increases SecureFX s flexibility for organizations that use multiple transfer protocols. SecureCRT 8.7 and SecureFX 8.7 Include Technical Support During Evaluation Fully-functional evaluation copies of SecureCRT 8.7 and SecureFX 8.7 can be downloaded from the VanDyke Software website at www.vandyke.com . Evaluators have full access to VanDyke Software s expert technical support to assist with installation, configuration, and testing during the 30-day evaluation period.
Visit the Press Release for more details
Software from the publisher:
SecureCRT, VShell Server for UNIX, SecureFX, VShell Server for Windows 3.6, VanDyke ClientPack for Windows, Mac and UNIX, SecureCRT for Linux, SecureCRT for Mac, SecureFX for Mac, SecureFX for Linux, VShell Server for UNIX, VShell Server for UNIX, VShell Server for Windows, SecureCRT, SecureCRT for Linux, SecureCRT for Mac, SecureFX, SecureFX for Linux, SecureFX for Mac, VanDyke ClientPack for Windows, Mac and UNIX,