Software Name:
Security Monitor Pro


Version: 6.22
Category: Miscellaneous
Date Listed/Updated: 2022-09-22 18:29:52
File size: 52688 KB
OS: Win2000,WinXP,Win7 x32,Win7 x64,Windows 8,Windows 10,WinServer,WinOther,WinVista,WinVista x64 License: Other Price($): 89.95
Author/Publisher name: Steve P.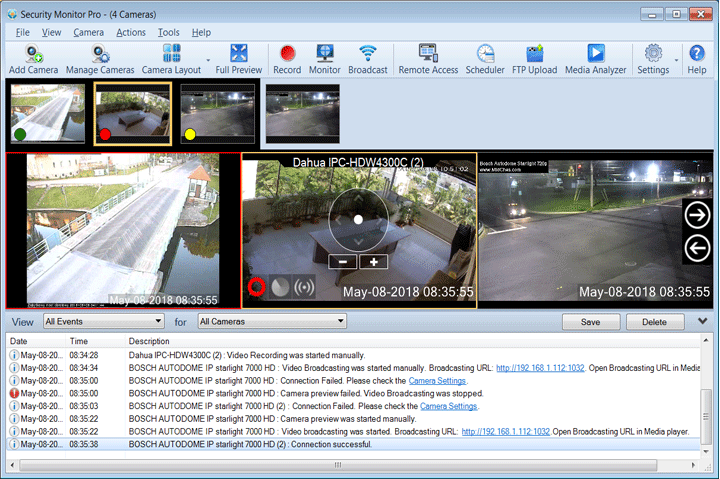 Description:
Professional Video Surveillance Software With Support For Multiple IP and USB Cameras. Security Monitor Pro is the perfect solution for complex security problems. It can monitor and record from up to 32 IP cameras simultaneously, create continuous video recordings, and preview multiple cameras in a single window. Each camera has its own individual monitoring and recording settings. When motion is detected, it can send email, record audio and video, and or sound an audible alarm. In addition, the software maintains a detailed event log. Each camera has its own scheduled on off times. The schedule can be the same each day, different for each day of the week, or include one-time events. The cameras can also start monitoring when the application starts up. Remote monitoring keeps you on top of security, even from distant locations. All video recordings and snapshots can be automatically uploaded to the FTP server of your choice, either on a regular schedule or as soon as the alarm condition is detected. The program can also broadcast (stream) live video and audio from all cameras, which can be viewed from any location using the Internet and an Android device. Email and SMS alerts can include a snapshot showing the cause of the alert. A license plate add-on is available to track vehicle plates and generate an alert when a specific, or any, license plate is detected. Alerts include recording video, taking photos, or saving all plate numbers in a file. Security Monitor Pro can monitor and record from multiple IP cameras, in addition to any cameras connected directly to the PC, simultaneously. It s the central element of your security and surveillance system.
Tags: video surveillance surveillance video security security monitoring intrusion multiple cameras
Is this software spam? Report Spam
Software removal request by publisher Removal Request
Software Review: Security Monitor Pro Review
For publisher: Request Software Confirmation
Software from the publisher:
Security Monitor Pro, WebCam Monitor, Video Caster, My Screen Recorder, Digital Media Converter, Auto FTP Manager, Security Monitor Pro, IP Camera Viewer, My Screen Recorder, Auto FTP Manager, My Screen Recorder Pro, WebCam Monitor, Dictation Pro, FTP Manager Lite, Text Speaker, Team Task Manager, DVD Author Plus, Auto FTP Manager, Rip DVD Plus, Dictation Pro, Site Translator, Security Monitor Pro, Freehand Painter, My Screen Recorder, Digital Media Converter Pro, Text Speaker, My Screen Recorder Pro,