Software Name: Soft4Boost Secure Eraser

Version: 5.9.3.391
Category: Miscellaneous
Date Listed/Updated: 2020-05-24 06:35:31
File size: 12136 KB
OS: Win2000,WinXP,Win7 x32,Win7 x64,Windows 8,Windows 10,WinServer,WinOther,Windows2000,Windows2003,Windows Server 2012,Windows Tablet PC Edition 2005,Windows Media Center Edition 2005,WinVista,Windows Vista Starter,Windows Vista Home Basic,Windows Vista Home Premium,Windows Vista Business,Windows Vista Enterprise,Windows Vista Ultimate,WinVista x64,Windows Vista Home Basic x64,Windows Vista Home Premium x64,Windows Vista Business x64,Windows Vista Enterprise x64,Windows Vista Ultimate x64 License: freeware Price($): 0
Author/Publisher name: Matteo Bruno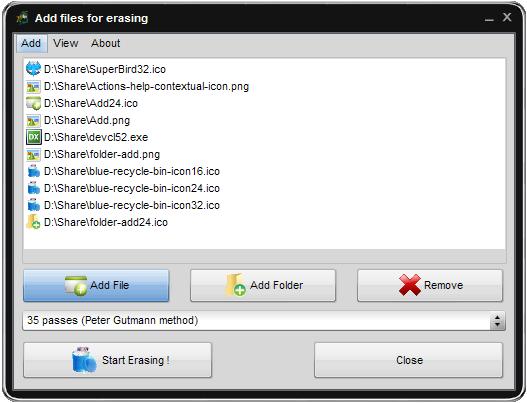 Description: Soft4Boost Secure Eraser is a wizard-styled utility, which allows you to completely remove sensitive data from your hard drive by overwriting it several times with carefully selected patterns. Using internationally recognized methods, Soft4Boost Secure Eraser deletes sensitive data so securely that a reconstruction, even with special software, is no longer possible. In Soft4Boost Secure Eraser, an analysis function has been integrated which searches for data that was deleted non-securely. With just a few clicks, the computer can be cleaned to such an extent that unauthorized persons have no chance to dig out old files and misuse them. Soft4Boost Secure Eraser provides lifetime free update service and Unlimited Free technical support. In addition, it also provides more and more language packs for worldwide users.
Tags: data deletion secure deleting files personal data shredder security deletion confidential dele
Is this software spam? Report Spam
Software removal request by publisher Removal Request
Software Review: Soft4Boost Secure Eraser Review
For publisher: Request Software Confirmation
Press release from the publisher:
Soft4Boost, a group of like-minded programmers from different countries recently released a wizard-style utility that provides an easier way for PC users to remove files and folders without ability to undelete and restore them. The new software application is known as Secure Eraser and is available as a free download from the Soft4Boost website. To remove data completely it is not enough to remove it through the Windows Explorer to the Recycle Bin (Basket) or to the Recycle Bin and after then empty it. Besides, even after hard disk formatting, it is possible to restore data partially or completely. Therefore old hard drive or other storage device which user has sold or gave to another person, can quite become object of interest for a certain circle of people. Information restoration can cost expensively enough and can take away a lot of time but when it is a question of really important information, money and time are fading into the background. Restoration programs (undelete) are based on this file removal mechanism, they can recover file system record about file existence. There are either positive or negative sides of it. Data restoration from the broken hard drive brings pleasure when this information comes back. But when the file which you have removed, gets into foreign hands it is a big problem. To be sure that nobody can restore your files and get access to the private information which you wish to be destroyed forever, it is necessary to use the Soft4Boost Secure Eraser. The Secure Eraser application can perform the following functions: - Delete Files from Windows Explorer: The Secure Eraser utility can be launched directly from Windows Explorer which makes it convenient to find the file you want to delete safety. When you locate the file in Windows Explorer you simply right click on it and then choose ?Send To from the menu and then click Secure Eraser. It s that easy. - Support many overwriting standards: Secure Eraser supports many overwriting standards, such as VSITR, DoD 5220 22-M, HMG IS5, Gutmann method and many others. When you download Secure Eraser from the Soft4Boost website the interface is available in multiple languages which include English, French, German, Spanish, Italian, Russian, Danish, Turkish and Hungarian. Soft4Boost offers a variety of software applications that are engineered by programmers that are highly trained in different areas of technological expertise. Collaboration of these abilities results in some of the best user-friendly applications for PC users.
Visit the Press Release for more details
Software from the publisher:
AMPlayer, Soft4Boost Device Uploader, Soft4Boost Video to Device, Soft4Boost Photo Studio, Soft4Boost Dup File Finder, Soft4Boost Video to Flash, Soft4Boost Audio Converter, Soft4Boost Any Uninstaller, Soft4Boost Document Converter, Disc Cover Studio, Soft4Boost Audio Mixer, Soft4Boost Toolbar Cleaner, Soft4Boost Video Capture, Soft4Boost Ringtone Creator, Soft4Boost Split Movie, Soft4Boost DVD Creator, Any Audio Grabber, Any Audio Record, Soft4Boost TV Recorder, Soft4Boost Slideshow Studio, Soft4Boost Secure Eraser, Soft4Boost Burning Studio, Easy Disc Burner, Soft4Boost Update Checker, Soft4Boost Image Converter, Soft4Boost DVD Cloner, Soft4Boost Screen Recorder, Soft4Boost Suite, PC Win Booster Free, Soft4Boost Audio Studio, Soft4Boost Video Converter, Soft4Boost Video Studio, PC Win Booster, Soft4Boost Suite, PC Win Booster, PC Win Booster Free, AMPlayer, Soft4Boost Video Studio, Soft4Boost Video Converter, Soft4Boost Video to Flash, Soft4Boost Update Checker, Soft4Boost Video to Device, Soft4Boost Audio Studio, Soft4Boost Burning Studio, Soft4Boost Any Uninstaller, Any Audio Grabber, Any Audio Record, Soft4Boost Photo Studio, Easy Disc Burner, Soft4Boost Device Uploader, Soft4Boost Document Converter, Disc Cover Studio, Soft4Boost Audio Converter, Soft4Boost Dup File Finder, Soft4Boost Video Capture, Soft4Boost TV Recorder, Soft4Boost Toolbar Cleaner, Soft4Boost Audio Mixer, Soft4Boost Split Movie, Soft4Boost Slideshow Studio, Soft4Boost Secure Eraser, Soft4Boost Screen Recorder, Soft4Boost DVD Cloner, Soft4Boost Image Converter, Soft4Boost DVD Creator, Soft4Boost Ringtone Creator,