Software Name:
Photovoltaic System


Version: 7.48
Category: Miscellaneous
Date Listed/Updated: 2022-05-13 05:18:09
File size: 6308 KB
OS: Win2000,WinXP,Win7 x32,Win7 x64,Windows 8,Windows 10,WinServer,WinOther,WinVista,WinVista x64 License: freeware Price($): 0
Author/Publisher name: Martin Bernhardt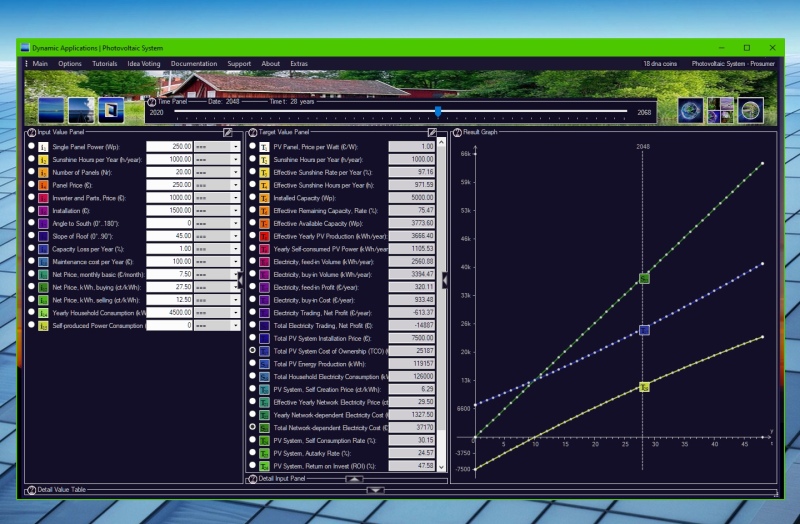 Description:
Photovoltaic System allows you to simulate the amortization of a PV System over 20..40 years. In the single window application, you have to enter the number of PV Panels, their capacity, the angle of your house towards the sun, and sunshin per year. You can fine-tune as many cost-driving, efficiency, and sales parameters as you want, for example, your household consumption over time. Photovoltaic System s integrated Result Graph will show you the development of all selected Target parameters from year 0 to year 40, immediately. To allow for a Total Cost of Ownership (TCO) and Return on Invest (RoI) calculations, a Prosumer Electricity Trading simulation allows to determine the net profit in relation to buying electricity from your Electricity Network, and show you how much you can earn from selling your own PV Energy to the local Network Supplier. Photovoltaic System is the first standalone application based on the Dynamic Applications platform of free 21st century business models. Through automated ToolTips, the whole calculation is Transparent and fully self-explanatory, showing all formulas in live number calculation. We re also protecting your privacy. No data gathering, no Server behind you. It s your business. We respect that. Dynamic Applications is a community approach. We follow Customer Driven Development. Two user competitions allow everyone to vote on our best simulation ideas to do, as well as the product roadmap. The integrated Formula Editors are available for the top 12 Input and Target Values in the free version. So you can rename and translate Dynamic Applications to your own language or requirements. All in all, Photovoltaic System is a reliable simulation with professional calculation models that can save you hundreds of Euro or Dollar when buying the first PV System for your own house.
Tags: Dynamic Applications Photovoltaic PV PV System Renewable Energy Cost Profit Amortization TCO
Is this software spam? Report Spam
Software removal request by publisher Removal Request
Software Review: Photovoltaic System Review
For publisher: Request Software Confirmation
Press release from the publisher:
Dynamic Applications releases Photovoltaic System with Prosumer Electricity Trading. Photovoltaic System allows to calculate the perfect Number of PV Panels on your House, worldwide. It will calculate all Targets over time, predict and graphically display a PV System Amortization over 30 years. Photovoltaic System allows you to not only enter all relevant Input Parameters describing a PV installation, its parts, cost, and Network Electricity prices, it also allows you modify each Input Value over time. Simulate rising Net Price developments, Household consumption, Self Consumption Rate. See their combined outcome on the spot, including a Result Diagram over 30 years. See Installation cost, Installed Capacity, Effective Capacity, Network feed-in profit, Network buy-from cost, Total Cost of Ownership over Time, ROI, estimated Self Consumption Rate and Autarky Rate. Fine-tune all Input Parameters to find your sweet spot - the best, most efficient PV installation you desire. SocialMedia Followers leading the path of Development Accompanying the Release, which was prepared through a long beta phase with more than 1000 SocialMedia freelance testers, two SocialMedia Competitions have been started. At twitter.com dynamic_idea, a public voting competition allows everyone to suggest, favour, and retweet new simulation ideas. Roadmap In parallel to @dynamic_idea, there is a Roadmap, Bug and Feature competition at @dynamic_qs. Every month, we work on the top voted @dynamic_qs roadmap feature. As soon as finished, we publish new simulation models from @dynamic_idea. Customer Driven Development. Pay with a tweet, and define the next big thing we publish for free. About Dynamic Applications Dynamic Applications was founded on January 01, 2016 by Martin Bernhardt, a widely unknown, small inventor. Dynamic Applications has no flyers, sales consultants, traditional marketing, or budget. Our strategy is called Growth Hacking: we spend as much time as possible on Research and Development of the Software. Following an Agile Development approach, we re working our way all up from the very bottom. We try to make the crap we started from better, every day. Dynamic Applications is a community approach. We pay with a Tweet, and define the next big thing to publish. We are Dynamic Applications. We work to empower people. We are Sharing Economy. Follow us to gain.
Visit the Press Release for more details
Software from the publisher:
The Reverse Experience, Photovoltaic System, App Developer, The Reverse Experience, Predicted Desire, Internet of Things Developer, 21st century worldwide growth of Forest, Pirate Desire, 21st century Truck driver, Federal Press Agency, Water Supply, Water Supply, Internet of Things Developer, Photovoltaic System, 21st century worldwide growth of Forest, Apple Tree, Federal Press Agency, Healthcare Simulations, Wind Turbine, 21st century Truck driver, Apple Tree, Healthcare Simulations, 21st century worldwide growth of Forest, Federal Press Agency, Water Supply, Photovoltaic System, Pirate Desire, Internet of Things Developer, Smart Grid Simulations, Wind Turbine, Pyramid Simulations, Smart Grid Simulations, Nature Simulations,