Software Name:
Healthcare Simulations


Version: 6.87
Category: Miscellaneous
Date Listed/Updated: 2021-11-21 21:06:21
File size: 6195 KB
OS: Win2000,WinXP,Win7 x32,Win7 x64,Windows 8,Windows 10,WinServer,WinOther,WinVista,WinVista x64 License: freeware Price($): 0
Author/Publisher name: Martin Bernhardt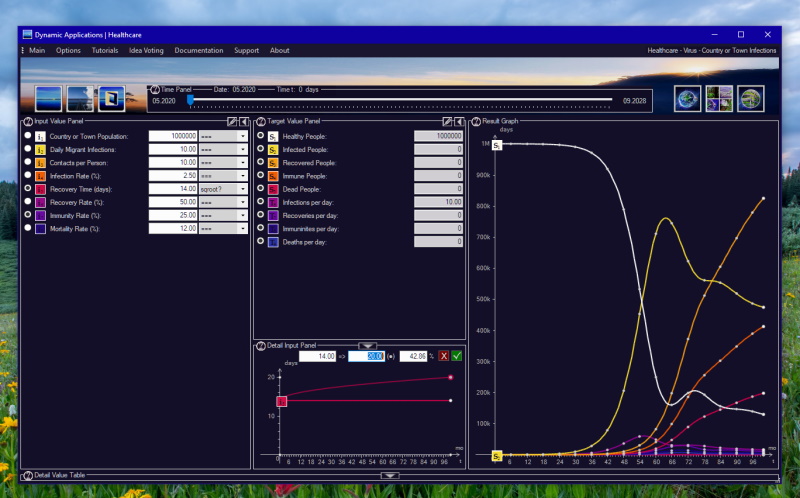 Description:
Healthcare Simulation allows you to load, save, run, create and modify various Simulation Models by Dynamic Applications, centered around the topic of Home, Family, Health, Virus Infections, and healthy food creation. The built-in Formula System allows to define any number of Input Parameters and Target Formula. All calculations are fully Transparent through interactive ToolTips, explaining all Formula in live calculation. With every Input Parameter, there is a small Mode selector where you can estimate its development over time. Here you can raise up, lower, and square values, define interest rates, or saturation, trending, or Bell curves. Apply as many Input Value developments in time and see the Statistical Median Assumption of all your expectations, instantly and precisely. This way, Dynamic Applications allow you to quickly and interactively check all options of a given scenario. Since everything provided is free of charge, you can plan your new life secretly on a do-it-yourself basis, and never have to worry. Full Privacy Protection - no data gathering, no Adware, no Server, no Server behind you. Dynamic Applications are traditional Desktop Clients that are collecting or gathering no data at all. So that you can plan secretly and don t have to worry. Switch off your Wifi and check that out. Dynamic Applications are also Participative. Two user votings on Twitter allow you to check out further Simulation ideas, as well as Features for the Product s underlying Platform Roadmap. All in all, Healthcare Simulations is a reliable product that features interesting calculation models that are fully functional to load, save, run, and various Virus and Healthcare Simulations over time.
Tags: Healthcare Health Doctor Corona Virus Infection Hospital Wellness Prediction Forecast Smal
Is this software spam? Report Spam
Software removal request by publisher Removal Request
Software Review: Healthcare Simulations Review
For publisher: Request Software Confirmation
Press release from the publisher:
Dynamic Applications releases Healthcare Simulations. How it works Healthcare will predict a Virus Infection in your local Town or Country over 100 days. As well, a global Virus outbreak simulation will show various informations by Country, including the Total Healthy, Infected, Recovered, Immune and Deceased People. Through a small series of Input Parameters, everything is customizable according to your needs. Being part of the Dynamic Applications platform, it s capable of calculating basically any Formula System over time, including a Solver Algorithm capable of solving (iterating) Differential Equations. PM will calculate all Targets, predict and graphically display a company s proceedings over the next 48 months in the reference model. Based on the set of Input Parameters and Formula, the user interface is built automatically by parsing and interpretation of the simulation models s equation system. Transparency, Privacy Protection, and Participation. our values. Dynamic Applications are fully Transparent, explaining all formulas in live calculation values. Privacy Protection. Dynamic Applications are simple Desktop clients that are gathering no data at all. Participation. A fair chance of Participation and to pursue your own way to Happiness is our Target. Furthermore, two Twitter channels are available where users can vote for new Simulation ideas, as well as on the underlying Platform Roadmap Features. We work from Top Votes. About Dynamic Applications Dynamic Applications was founded on January 01, 2016 by Martin Bernhardt. Dynamic Applications has no flyers, sales consultants, traditional marketing, or budget. Our strategy is called Growth Hacking: we spend as much time as possible on Research and Development of the Software. Following a Step-by-Step development approach, we re working our way all up from the very bottom. We start from crap and make it better, every day. Ergonomy, Simlicity, Beauty and Perfection we are working towards. Dynamic Applications is a community approach. We pay with a Tweet, and vote for the next big thing to publish. Dynamic Applications are based on System Dynamics, a well-known approach from MIT in Boston, Massachusetts.
Visit the Press Release for more details
Software from the publisher:
The Reverse Experience, Photovoltaic System, App Developer, The Reverse Experience, Predicted Desire, Internet of Things Developer, 21st century worldwide growth of Forest, Pirate Desire, 21st century Truck driver, Federal Press Agency, Water Supply, Water Supply, Internet of Things Developer, Photovoltaic System, 21st century worldwide growth of Forest, Apple Tree, Federal Press Agency, Healthcare Simulations, Wind Turbine, 21st century Truck driver, Apple Tree, Healthcare Simulations, 21st century worldwide growth of Forest, Federal Press Agency, Water Supply, Photovoltaic System, Pirate Desire, Internet of Things Developer, Smart Grid Simulations, Wind Turbine, Pyramid Simulations, Smart Grid Simulations, Nature Simulations, Smart Grid Simulations,