Software Name:
Internet of Things Developer


Version: 6.94
Category: Miscellaneous
Date Listed/Updated: 2021-11-27 21:49:02
File size: 6912 KB
OS: Win2000,WinXP,Win7 x32,Win7 x64,Windows 8,Windows 10,WinServer,WinOther,Windows2000,Windows2003,Windows Server 2000,Windows Server 2003,Windows Server 2008,Windows Server 2008r2,Windows Server 2012,Windows Tablet PC Edition 2005,Windows Media Center Edition 2005,WinVista,Windows Vista Starter,Windows Vista Home Basic,Windows Vista Home Premium,Windows Vista Business,Windows Vista Enterprise,Windows Vista Ultimate,WinVista x64,Windows Vista Home Basic x64,Windows Vista Home Premium x64,Windows Vi License: freeware Price($): 0
Author/Publisher name: Martin Bernhardt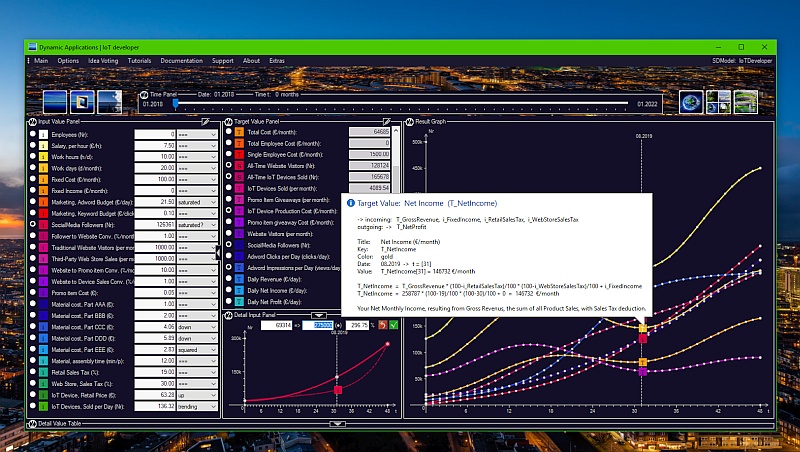 Description:
The IoT developer simulation all about developing Smart Homes for every person in the world. Our solutions are based on a universal equation solver. Change any input you want, over time, and see Net Profit estimations over 48 months, precisely calculated in the median statistical expectation of all single aspects of your company s estimated developments. Calculate SocialMedia Followers, Adwords, Website Visitors, Production cost, App downloads, Total Revenue, and Net Profit. Define your own strategy to success. Develop your very own IoT Device, and simulate it s worldwide deployment over time. This is the game. You are inside. Customer driven development: two user competitions are live on Twitter, where you can vote for the best simulation idea as well as for the best platform feature to follow. Dynamic Applications are fully Transparent throught interactive, automated ToolTips, explaining all formulas in live number calculation. Dynamic Appliacitons gathering no data at all. It s your business, we respect that. Just a traditional desktop client, all you need. The simulation includes various calculation models from the most basic company producing candles, plants, your small house for the christmas market, up to board games, small machines, and even motorcycles. Create the perfect calculation model for your personal device by opening the calculation of your choice, and simply rename materials and parts according to your needs and requirement. All in all, Internet of Things developer is a reliable applications that allows to develop your device for the Internet of beautiful Things.
Tags: Dynamic Applications Internet of Things IoT Internet App Developer SocialMedia Startup Profi
Is this software spam? Report Spam
Software removal request by publisher Removal Request
Software Review: Internet of Things Developer Review
For publisher: Request Software Confirmation
Press release from the publisher:
Dynamic Applications releases Internet of Things developer The IoT developer simulation all about developing Smart Homes for every person in the world. Change any input you want, over time, and optimize your Net Profit planning over 48 months, precisely calculated. Estimate Material Cost of various parts, Energy consumption, Production time, Retail Price of your Device, Customers and Devices sold, SocialMedia Followers, Website Vistors, Work Time. Our solutions are based on a differential equation solver. See App Downloads, Total Cost, Revenue, and resulting Net Profit, precisely combined over time. Concentrate on each single Input Parameter, on the driving screws of your company. So why IoT? - imagine you are a house wife, all day at home. One day, she thinks about the meaning of Photovoltaic Systems. As everyone knows, they are producing energy from sunlight. But, do they have a business case? - nobody knows for sure. One day, a new thought comes to her. When she s cooking a meal for her family, in summertime, it gets pretty warm in the kitchen. She wants to be tidy and clean, and not dirty, sweating and rotten. So she has wished herself an air conditioning, for a long time. When she mentioned to her husband, he said it was too expensive. When she mentioned to her 17-year old daughter, she s all about protecting nature and says it s not good for world climate, so she s all against it. But she has observed over the years that renewable energy production, wind and solar, have become cheaper every year. While developing energy efficient machines has become more expensive. Looking out of her window, all of a sudden, she saw a lot of potential: customers ! And so she develops world s first Photovoltaic System - driven Air Conditioner, a completely autonomic device for the Internet of Things. She opens up a Website and two Twitter accounts and if you got any idea about what the Dynamic Applications project is about, you have already seen that she creates a win-win-win situation for her small family. She hasn t got any idea yet whether this machine has got a realistic business case, at first. It just seems a cool idea and when she tells her friends at the laundry, they also find it a really cool idea for the laundry. An air conditioner, powered by PV panels, with energy supplied directly from of the Sun. 4.000.000 years to come. She is pragmatic and opens up a website on day one, starts developing her idea, invites people to join her, and all of a sudden, her family starts recognizing her in a completely different way. They got a 21st century mum, now. Is it possible? - we say yes. So here s a tool to calculate the best possible price for your idea, and sell it by the thousands. Are you ready to go? Drive. We are Dynamic Applications. We empower people. We are Sharing Economy. Follow us to gain.
Visit the Press Release for more details
Software from the publisher:
The Reverse Experience, Photovoltaic System, App Developer, The Reverse Experience, Predicted Desire, Internet of Things Developer, 21st century worldwide growth of Forest, Pirate Desire, 21st century Truck driver, Federal Press Agency, Water Supply, Water Supply, Internet of Things Developer, Photovoltaic System, 21st century worldwide growth of Forest, Apple Tree, Federal Press Agency, Healthcare Simulations, Wind Turbine, 21st century Truck driver, Apple Tree, Healthcare Simulations, 21st century worldwide growth of Forest, Federal Press Agency, Water Supply, Photovoltaic System, Pirate Desire, Internet of Things Developer, Smart Grid Simulations, Wind Turbine, Pyramid Simulations, Smart Grid Simulations, Nature Simulations,