Software Name: Wind Turbine

Version: 6.94
Category: Miscellaneous
Date Listed/Updated: 2021-12-09 16:51:15
File size: 5732 KB
OS: Win2000,WinXP,Win7 x32,Win7 x64,Windows 8,Windows 10,WinServer,WinOther,Windows2000,Windows2003,Windows Server 2000,Windows Server 2003,Windows Server 2008,Windows Server 2008r2,Windows Server 2012,Windows Tablet PC Edition 2005,Windows Media Center Edition 2005,WinVista,Windows Vista Starter,Windows Vista Home Basic,Windows Vista Home Premium,Windows Vista Business,Windows Vista Enterprise,Windows Vista Ultimate,WinVista x64,Windows Vista Home Basic x64,Windows Vista Home Premium x64,Windows Vi License: freeware Price($): 0
Author/Publisher name: Martin Bernhardt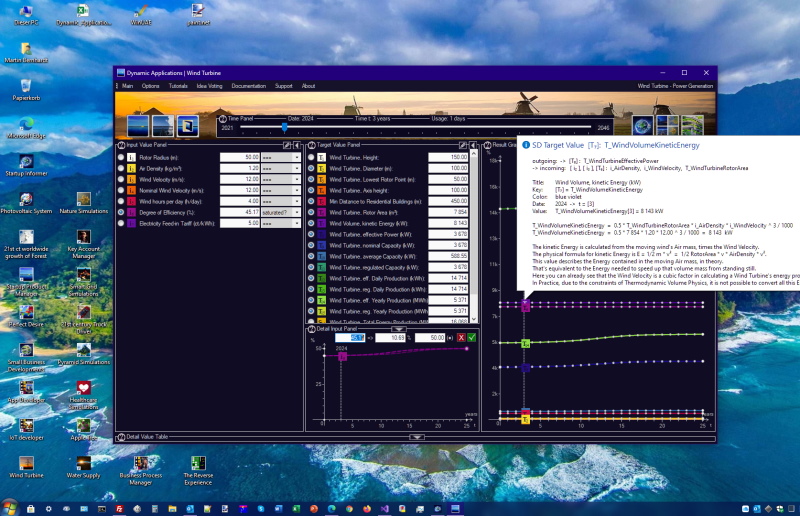 Description: Wind Turbine is an interactive Return on Investment Planner for Renewable Energies. It brings various small Simulations based on the Dynamic Applications Platform of Business Planners. The Simulation Model Wind Turbine - Power Generation is focused on Physics and Electricity. Effects of Thermodynamic Physics and Power Generation are explained via ToolTips with hand-written comments. The Simulation Model Wind Turbine - Return on Invest allows you to calculate Costs and Profits of any Wind Turbine, with a graphical display of Installation Cost, sum-up Total Cost of Ownership, Revenues from Power Generation through Feed-in Tariff, and Return on Invest over 25 years. Full Transparency - Automated ToolTips explaining all Formula, showing Results in live calculation. Privacy Protection - no data gathering, no Server behind you. Just a traditional Desktop Client, all you need. Wind Turbine is an interesting example of calculating Renewable Energy machines that allows you to verify all results and shows you Incentives as well as Risks of such an Investment by explaining all Formula in Calculation. Let Input Parameters rise and fall over Time, and see their combined outcome. So you can really get your own, independent picture on this high-risk investment. In reducing the risk, have you ever thought about the cost and profit of world s smallest Wind Turbine, in your own village s garden? - so here we go. In being a universal Simulation Model platform, Dynamic Applications will let you calculate your own, personal scenario, and leave decision making up to you. Understanding Nature, applied in Training any single aspect of Sustainable Thinking over Time. All in all, Wind Turbine is a reliable application that allows you to calculate Power Generation, Total Cost of Ownership (TCO) and Return on Investment (RoI) of a modern, Renewable Energy Wind Turbine over 25 years.
Tags: Wind Turbine Renewable Energy Renewables Wind Turbine Energy Power Production Return on Inve
Is this software spam? Report Spam
Software removal request by publisher Removal Request
Software Review: Wind Turbine Review
For publisher: Request Software Confirmation
Press release from the publisher:
Dynamic Applications releases Wind Turbine, with a complete Return on Invest calculation. When the wind of change blows, some people build walls, but some people build windmills. Chinese Proverb. Wind Turbine will calculate both Power Generation as well as the Financial Return on Invest of a Wind Turbine for your local Town or Village. Renewable Energies. Understanding. Sustainability. This Business Planner will calculate Cost and Profit (TCO, RoI, Interest Rates) of a Wind Turbine, completing our small portfolio of Renewable Energy Simulations, Photovoltaic System and Water Supply. This Dynamic Application targets to empower you, our customers, to fully understand not only the chances, but also the risks of Renewable Energy production. Will it be worth to Invest your Money? The Freeware Simulation brings 2 interesting calculation models. While the first Simulation Model is focused on Power Generation, explaining all kinds of phyisical and thermodynamic effects to consider, the second Simulation Model will help you calculate relevant financial parameters for a serious financial forecast over 20 .. 25 years. As usual, all our calculations are self-explanatory through automated ToolTips. Keep in mind that there is no warranty of fitness for your current project or business case. Instead, Dynamic Applications allow you not only to verify all calculations with a Pocket Calculator, but also to create, adjust and modify any Label, Unit, Default Value, Input Parameter, and even Target Formula. As usual, you are also invited to let every Input Parameter rise or fall over time, so to see instantly their combined effect on Power Generation as well as on any financial criteria, results and overall Return on Investment. A professional version is available as a Windows 10 Store App in Microsoft Store for a very good price. Through the integrated Formula Solver, it allows you to adjust, modify and create any Parameter in calculation, as well as to create further Financial Forecasts of your own choice. All in all, Wind Turbine is a reliable application that allows you not only to calculate a Wind Turbine, but also to fully understand and verify the underlying calculation model.
Visit the Press Release for more details
Software from the publisher:
The Reverse Experience, Photovoltaic System, App Developer, The Reverse Experience, Predicted Desire, Internet of Things Developer, 21st century worldwide growth of Forest, Pirate Desire, 21st century Truck driver, Federal Press Agency, Water Supply, Water Supply, Internet of Things Developer, Photovoltaic System, 21st century worldwide growth of Forest, Apple Tree, Federal Press Agency, Healthcare Simulations, Wind Turbine, 21st century Truck driver, Apple Tree, Healthcare Simulations, 21st century worldwide growth of Forest, Federal Press Agency, Water Supply, Photovoltaic System, Pirate Desire, Internet of Things Developer, Smart Grid Simulations, Wind Turbine, Pyramid Simulations, Smart Grid Simulations,