Software Name:
Smart Grid Simulations


Version: 7.48
Category: Miscellaneous
Date Listed/Updated: 2022-05-13 05:28:30
File size: 7231 KB
OS: Win2000,WinXP,Win7 x32,Win7 x64,Windows 8,Windows 10,WinServer,WinOther,Windows2000,Windows2003,Windows Server 2000,Windows Server 2003,Windows Server 2008,Windows Server 2008r2,Windows Server 2012,Windows Tablet PC Edition 2005,Windows Media Center Edition 2005,WinVista,Windows Vista Starter,Windows Vista Home Basic,Windows Vista Home Premium,Windows Vista Business,Windows Vista Enterprise,Windows Vista Ultimate,WinVista x64,Windows Vista Home Basic x64,Windows Vista Home Premium x64,Windows Vi License: freeware Price($): 0
Author/Publisher name: Martin Bernhardt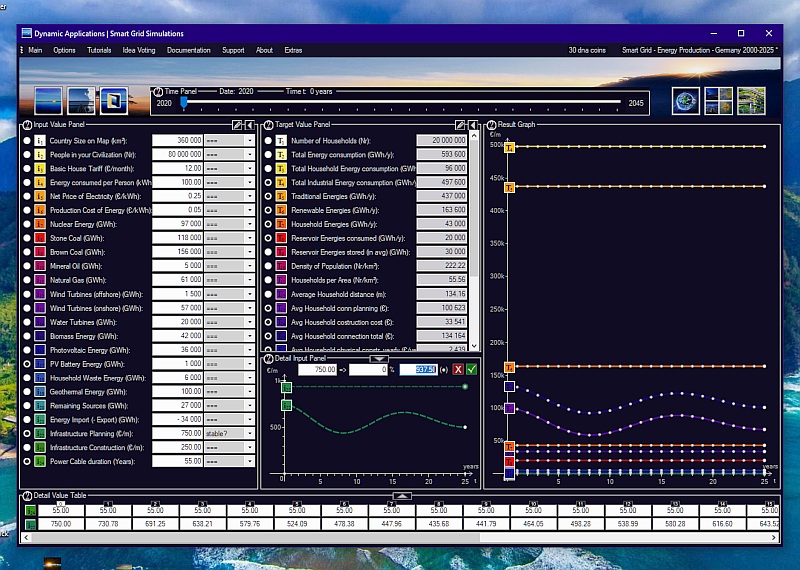 Description:
Smart Grid Simulations is a collection of Business Planners in (x y t) that allow you to calculate your personal Household Power Supply. With PV Energy, Wind Turbine, as well as Cost Profit of Public Infrastructure in relation, all Calculations are fully Transparent via ToolTips with Formulas and live calculation in Numbers. Privacy Protection - no data gathering, no Server behind you. It s your data. We respect that. Traditional Desktop Client. To introduce the Smart Grid Application, as usual, at Dynamic Applications, we go back to the heart, to the origin of our Product - the development of public infrastructure, all from the very ground up. So here we are, a gain, my dear, in the beginning, really far back in history. Smart Grid Simulations. our free collection of infrastructure simulations, with a forecast in System Dynamics. From there, we concern ourselves with creating a good, reasonable balance between the public state and the person s home. So this one, Young Modeler, this one is really on founding, on building your own Civilization. Water Supply (basic self-supply) Apple Tree (self-supply with Garden) Multi-Material Tool Builder (cost margin) Business Process Manager (work and time) Photovoltaic System (electricity producer) Wind Turbine (electricity for the village) App developer (basic) (Computer and IT) 21st century Truck Driver (Private or Public Transport) Internet of Things developer (basic) (Small Parcel Trade) Smart Grid Energy Production - Germany (2000-2025) Dynamic Idea and Roadmap Competition (user voting) Configurable Time Ruler (48 months standard simulation). The free version allows you to edit the Top 12 Formula. All in all, Smart Grid Simulations is a reliable Product that brings a large variety of Power Supply and Infrastructure Simulations. Every Input Value can be fine-tuned over time (rising falling saturate), so you can play all kinds of what-if-then scenarios at an exceptional Price.
Tags: Smart Grid Infrastructure Simulations Renewable Energies Power Supply Electricity PV Wind Tur
Is this software spam? Report Spam
Software removal request by publisher Removal Request
Software Review: Smart Grid Simulations Review
For publisher: Request Software Confirmation
Press release from the publisher:
Dynamic Applications releases Smart Grid Simulations, an innovation in Law. Smart Grid Simulations is a collection of interactive Business Planners featuring PV System, Wind Turbine, Water Supply, Apple Tree, and Public Infrastructure calculations that will allow you to review the Topic of Public Infrastructure from all kinds of perspectives. From Man and Woman, House and Family with Self Supply, to the overview of The Federal Republic of Germany s most common Fossile and Renewable Energies, this small application allows you to get your own picture, independent from other sources. Transparency - through interactive ToolTips, all calculations are self-explanatory in formula and live numbers. Privacy Protection - no data gathering, no Server behind you. a traditional Desktop Client with no data transfer. Participation - free of charge in the basic version, available on hundreds of Freeware and Shareware Websites. Through the Dynamic Idea and Roadmap competition, every user can as well participate in a global voting of new Simulation Ideas (mutation) and as well the development of the Dynamic Applications platform (evolution). Finally, in providing Protocol Form, Smart Grid Simulations celebrates the arrival of Justice at Court, on a global scale. Defended with 75 Euro according to the AGB, Terms and Conditions of Dynamic Applications, before the Law by Martin Bernhardt. Protocol Form will allow everyone to defend the Law in Court, including any unfair treatment that there may have existed. So here we warrant Article 6 of the UN declaration of Human Rights, your Formal Existence where it counts. By defining our Liability, this innovation forms a relation in distance and time, requiring even any Judge and State Attorneys to Travel to AG Lemgo and bring down Protocol Form to get their 75 Euro by bringing up any Laws against it. Still, that s 7500 times the cost of 1 ct of a Din A4 page. An integrated Formula Editor allows you to adjust the Top 12 Input and Target Values according to your needs in the free version. For a decent price, everyone interested can upgrade to our Professional Business Model Development right from within the application, on request. Apart from that, users can collect dna coins and as well activate additional features through our Universal Promo Code, available within the Tweets of the Dynamic Idea and Roadmap Competition. All in all, Smart Grid Simulations is a reliable Application that works in itself, is verifyable in itself, and warrants your personal data so that you can plan secretly and don t have to worry. It is provided free of charge in the basic version, which allows you to run and verify any kind of Simulation Models in (x y t), over time. Finally, Dynamic Applications offer a Bug Bounty of 25 Euro, with up to 75 Euro as defended via AG Lemgo.
Visit the Press Release for more details
Software from the publisher:
The Reverse Experience, Photovoltaic System, App Developer, The Reverse Experience, Predicted Desire, Internet of Things Developer, 21st century worldwide growth of Forest, Pirate Desire, 21st century Truck driver, Federal Press Agency, Water Supply, Water Supply, Internet of Things Developer, Photovoltaic System, 21st century worldwide growth of Forest, Apple Tree, Federal Press Agency, Healthcare Simulations, Wind Turbine, 21st century Truck driver, Apple Tree, Healthcare Simulations, 21st century worldwide growth of Forest, Federal Press Agency, Water Supply, Photovoltaic System, Pirate Desire, Internet of Things Developer, Smart Grid Simulations, Wind Turbine, Pyramid Simulations, Smart Grid Simulations, Nature Simulations,