Software Name:
XtraTools Pro


Version: 22.8.1
Category: Miscellaneous
Date Listed/Updated: 2022-08-16 03:10:56
File size: 1378 KB
OS: Win2000,WinXP,Win7 x32,Win7 x64,Windows 8,Windows 10,WinServer,WinOther,Windows2000,Windows2003,Windows Server 2000,Windows Server 2003,Windows Server 2008,Windows Server 2008r2,Windows Server 2012,Windows Tablet PC Edition 2005,Windows Media Center Edition 2005,WinVista,Windows Vista Starter,Windows Vista Home Basic,Windows Vista Home Premium,Windows Vista Business,Windows Vista Enterprise,Windows Vista Ultimate,WinVista x64,Windows Vista Home Basic x64,Windows Vista Home Premium x64,Windows Vi License: Other Price($): 34.99
Author/Publisher name: Ruslan Smekalov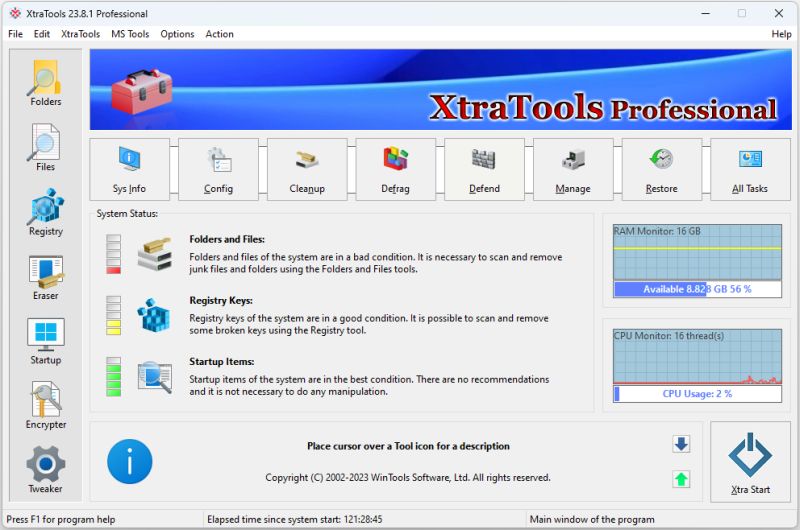 Description:
XtraTools Professional a set of applications consisting a lot of independent system utilities that are complimentary to the standard MS Windows utilities. XtraTools increases productivity and makes working with MS Windows easier. XtraTools Professional contain tools: XtraTools: Monitor Used to monitor the MS Windows operating system CPU and RAM usage and control the state of folders, files and registry of the system. XtraTools: Xtra Start An easy-to-use tool that is used to easily scan and clean folders, files and registry of the MS Windows operating system. XtraTools: Scan Folders Used for periodic cleaning of temporary folders of MS Windows operating system. Not deleted files in temporary folders slow down the access time to files on the hard disk. XtraTools: Scan Files Used for periodic cleaning of your hard drive from dead references, junk and obsolete files produced by different software. These files and references remain on the hard disk and increase drive access time. XtraTools: Scan Registry Used for periodic cleaning of the MS Windows registry from unused applications remaining after uninstallation and from invalid references which decrease system speed and system loading time. XtraTools: Objects Eraser Removes traces of activity on your computer. Cleans the history of started programs, search history, history of last opened documents and history of various Internet browsers. XtraTools: Startup Manager This tool allows you to monitor, add, remove, enable and or disable individual startup items. Adjust applications initialized during the loading process of the operating system. XtraTools: Tweak PC This is a set of additional adjustments related to safety, system capacity and user preferences and which are not included in the basic components of MS Windows.
Tags: xtratools extratools windows tools registry cleaners utilities startup tweaker virtual drive disk un
Is this software spam? Report Spam
Software removal request by publisher Removal Request
Software Review: XtraTools Pro Review
For publisher: Request Software Confirmation
Press release from the publisher:
XtraTools is an all-in-one MS Windows system optimization tool that takes care of every aspect of your computer, from optimizing the registry and removing unwanted programs to tweaking network connections and boosting RAM speed. This is a compact tool with an intuitive interface that gives you full control over the startup process, memory monitoring and a huge set of system settings that control the operation of your computer.
Visit the Press Release for more details
Software from the publisher:
WinTools.net Ultimate 10.01.1, Extra Subst, ExtraMAME, Extra Subst 4, Extra Drive Creator Professional, WinTools.net Extra, Armor Tools, XtraTools 2009, Fast File Encryptor, WinTools.net Professional, WinTools.net Classic, RAM Saver Pro, WinTools.net Premium, RAM Saver Professional, WinTools.net Pro, ExtraMAME, XtraTools Home x64, XtraTools Home, XtraTools Professional, XtraTools Professional x64, XtraTools Pro, ArmorTools Home, ArmorTools Home x64,