Software Name:
Multiple Devices Bulk SMS Messaging Tool


Version: 9.3.2.33
Category: Internet
Date Listed/Updated: 2022-07-31 05:36:33
File size: 1640 KB
OS: Windows 11,Windows 10,Windows 10 x64,Windows 8,Win7 x32,Win7 x64,WinVista,WinVista x64,WinXP,Other License: Other Price($): 49
Author/Publisher name: SMS Software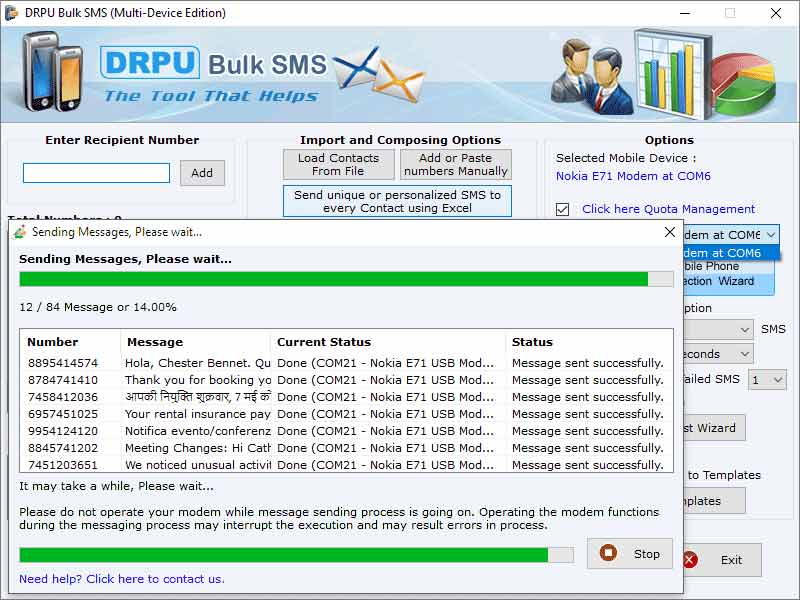 Description:
Bulk SMS Software forwards single text messages to target number of people without any duplicate contact number entries from PC using GSM technology based cell phones. Multiple Device Bulk SMS Sender software sends unlimited SMS to national or international mobile networks. Text Message Marketing Software offers a delay delivery option to control the load of bulk SMS broadcasting. Software also have import or composing option to send multiple numbers of text messages to people and it support MS-Excel, Text based files and Copy paste manually. Bulk messaging software allows user to send emergency alerts, reminders, seasonal, and greeting messages all over the world using GSM technology. Software has advanced feature to sends thousands of SMS from laptop to end user GSM technology based mobile phone. Software also provides device details which are connected to the laptop, like Manufacturer, Model Number, COM Port, Port Details etc. Software has two SMS Modes such as PDU Mode or Text Mode. Software also has update message option to update the selected message. Text SMS software allows users to communicate with people all around the world by sending chat messages from your computer to their Windows-based PCs or PDAs. Software supports Universal languages, allowing you to send bulk messages in any text format. User can connect multiple phones at same time for sending text messages. Features- *Software delivers alert, notification SMS to promote your product or inform about discount offers, holiday etc. *Software supports all windows version such as Windows 11, 10, 8, 7 and many others. *Software also has Advance option to send Notification or Standard SMS using multiple devices. *Software supports unicode. *Software provides facility to send SMS using Delayed Delivery Options. *Software provides features to user for sending multiple text messages by using excel and text based files at same time.
Tags: Download Bulk SMS Excel Software Bulk SMS Marketing Application Multiple Device Bulk SMS Sender To
Is this software spam? Report Spam
Software removal request by publisher Removal Request
Software Review: Multiple Devices Bulk SMS Messaging Tool Review
For publisher: Request Software Confirmation
Software from the publisher:
Online SMS BlackBerry, Multiple Device Bulk Text Messaging Tool, Bulk SMS Software for USB Modems, Bulk SMS Broadcasting Software, Excel Bulk SMS Sender using GSM Phone, Windows Mobile Text Messaging Software, Android Phones Bulk SMS Messaging Tool, Blackberry Phone SMS Messaging Software, MacOS Business Text Messaging App, Mac OS X Bulk SMS Sending Application, Mac OS Multi Phones SMS Messaging Tool, MacOS Android Cell Phone Texting Tool, Apple Texting Software using USB Modem, Android Phones SMS Texting Software, Excel Bulk GSM Phone Messaging Software, USB Modem Excel SMS Sending Software, Windows Phone SMS Messaging Software, Multiple Devices Bulk SMS Messaging Tool, Bulk SMS Messaging Tool for Android, Bulk SMS Messaging Tool with Blackberry, Bulk Text Message Sender to GSM Mobile, MacOS Messaging Tool for Android Phones, Business Bulk Messaging Tool for Mac, Apple Mac Multiple Devices SMS Software, Group SMS Messaging Software for Mac, MacOS USB Modem SMS Sending Software, Multi SMS Messaging Tool for Business, Professional Group SMS Messaging Tool, Bulk SMS Sender with Multiple USB Modem, Windows Phone SMS Sending Application,