Software Name:
MacOS USB Modem SMS Sending Software


Version: 9.5.3.4
Category: Internet
Date Listed/Updated: 2022-08-13 10:27:13
File size: 4787 KB
OS: Mac OS 12,MacOS 11,MacOS 10.12,MacOS 10.13,Mac OS 10.14,MacOS 10.15,Mac OS X,other Apple Mac OS License: Other Price($): 49
Author/Publisher name: SMS Software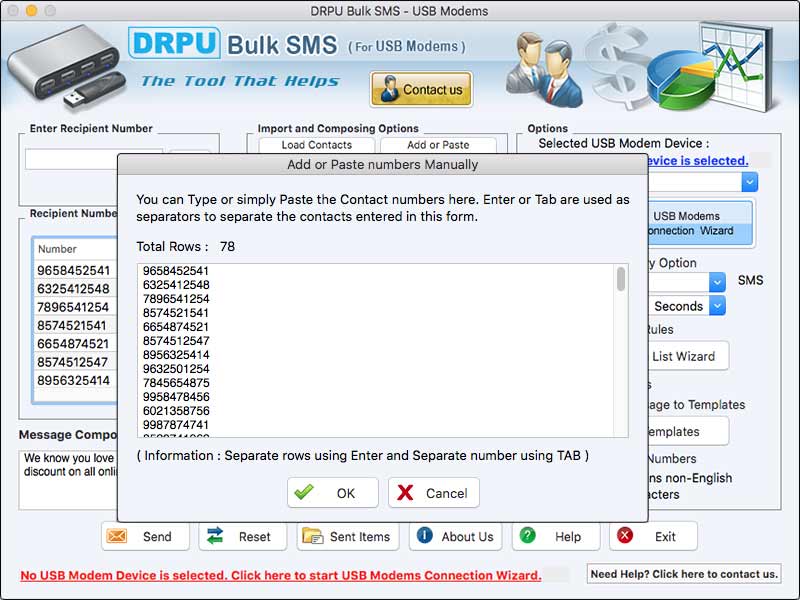 Description:
Apple MacOS X Mass Bulk SMS Broadcasting Software allows the user to communicate with friends, relatives and business partners by sending standard messages or notifications to their contact numbers. User can attach multiple quantities of USB modems with MAC machines to send text SMS. Here is how you can deliver text messages by using Mac USB modem bulk SMS application- Step 1: Click on USB Modems Connection Wizard option to connect the USB modem to the software. Step 2: Include the phone numbers along with the messages by adding manually or importing from the file. User can also send unique or personalized SMS to every contact by using excel file. Step 3: After writing the messages to every contact number, user can also update it through two ways- 1) Click on Update Selected Messages option to send unique messages to every contact. 2) Select Apply this message to list items option to send a same message to multiple contact numbers. Step 4: Send the text messages in any format by enabling the Message contains Unicode characters option. Step 5: Avoid duplicate number entries while message sending process by clicking on Skip Duplicate Numbers option. Step 6: Manage the load of bulk SMS transmission by clicking on Delayed Delivery option. In this option, user can send multiple SMS to a specific time period. Step 7: Click on Exclusion List Wizard option to prevent the unwanted contact numbers from receiving text messages. Step 8: Forward the sent text messages directly to another contact numbers without replacing it by saving these messages as a template. Highlighted Features: * Deliver the standard messages to multiple contact numbers by using USB Modems. * Send national or international text messages to other people in just few mouse clicks. * Save the sent text messages to html or txt file format that can be viewed later. * Remove the blacklisted contacts from recipient list with the help of Exclusion List Wizard option.
Tags: MacOS X USB Modem Bulk SMS Application Mac Bulk Text Messaging Tool for Modem Apple OS USB Modem G
Is this software spam? Report Spam
Software removal request by publisher Removal Request
Software Review: MacOS USB Modem SMS Sending Software Review
For publisher: Request Software Confirmation
Software from the publisher:
Online SMS BlackBerry, Multiple Device Bulk Text Messaging Tool, Bulk SMS Software for USB Modems, Bulk SMS Broadcasting Software, Excel Bulk SMS Sender using GSM Phone, Windows Mobile Text Messaging Software, Android Phones Bulk SMS Messaging Tool, Blackberry Phone SMS Messaging Software, MacOS Business Text Messaging App, Mac OS X Bulk SMS Sending Application, Mac OS Multi Phones SMS Messaging Tool, MacOS Android Cell Phone Texting Tool, Apple Texting Software using USB Modem, Android Phones SMS Texting Software, Excel Bulk GSM Phone Messaging Software, USB Modem Excel SMS Sending Software, Windows Phone SMS Messaging Software, Multiple Devices Bulk SMS Messaging Tool, Bulk SMS Messaging Tool for Android, Bulk SMS Messaging Tool with Blackberry, Bulk Text Message Sender to GSM Mobile, MacOS Messaging Tool for Android Phones, Business Bulk Messaging Tool for Mac, Apple Mac Multiple Devices SMS Software, Group SMS Messaging Software for Mac, MacOS USB Modem SMS Sending Software, Multi SMS Messaging Tool for Business, Professional Group SMS Messaging Tool, Bulk SMS Sender with Multiple USB Modem, Windows Phone SMS Sending Application,